Canada : on my way to the Yukon ...
First stops: Vancouver, Jasper...
first of 5 articles on this subject, first published in French, translated by Joanna Bremond.
After several years of computers and a daily work routine, I felt an urgent need to breathe some fresh air and explore other spaces, as "wide open" as possible…
- click on the photographs to increase their sizes © Romain Dartigues -



July 2009: I left Montreal for Vancouver, attractive capital of western Canada and British Columbia. The city lived up to its reputation. It was clean, with 600 000 inhabitants, many of whom are actively concerned about sustainable development - with large parks everywhere, some of which were bird sanctuaries. The sea was present everywhere, and many rivers wound through the city, giving it a lakeside feeling. The warm Pacific current tempers the climate. Apparently it rains 300 days per year, but during my stay I had no complaints as the weather stayed fine! I was told that in winter there was enough snow on the nearby mountains (the nearest resort, Cypress Mountain, is only half an hour from Vancouver-West) to satisfy all the city dwellers who are skiing addicts.
I stayed in the Youth Hostel at Jerico Beach Park, situated about 50 metres from a sandy beach, in the middle of a lovely park and only 20 minutes by bus from the center. I hired a bike and went "downtown" to explore the city centre. I was careful to avoid main streets, and soon discovered a network of cycle tracks, particularly pleasant and safe - un model system. I then went northwest, and found myself in Stanley Park, one of the largest and most beautiful urban parks in North America, with one part laid out with a play area, swimming pool, aquarium, and totem poles, and another part of its 400 hectares, 70% wilderness, where I found several extraordinary sequoias and other giant trees, which gave me an idea of the richness of the original forest.
- Séquoias, Stanley Park



However, after three days of exploring the city, I found I needed wilder country, so I got on a bus going to the neighbouring Province, Alberta. We soon started to climb higher, and eventually crossed the fantastic Rocky Mountains, and after 800 kilometers and 10 hours later, we went down to Jasper, an important summer tourist centre, specialising mainly in hiking and rock-climbing., which will be the subject of another illustrated story.
My target was further north, however, and I had to get a move on, as summer was well on its way when I got the bus for Whitehorse, at the beginning of August. The distances, compared with Europe, are enormous. The distance between Jasper (Alberta), and Whitehorse (Yukon) is 1 927 kilometres. The bus conductor put us down, 523 km further on, at Dawson Creek, where we had to wait two days for the next bus. These stops broke the journey, and cut into the understandable boredom which sets in. There, some passengers got off, others got on, parcels were delivered to various local buildings (post offices, fast-foods, doss-houses, or grocery stores)… it's obvious that the means of public transport were few and far between. For example I noted that the line between Dawson Creek and Whitehorse only functioned two or three times a week, and I imagine that in winter it's even more uncertain.
There are few inhabitants in this part of Canada and the distances are enormous, and the Greyhound Bus Company is confronted with a huge problem of profitability, although it practically has a monopoly. Since 1914 this company criss-crosses all North America, from Texas to Alaska via Montreal and New York and has in fact already threatened to close down certain lines in deficit in zones where there are few inhabitants.
Another pause at Fort Nelson, 500 km further on, where I just had time to send some postcards, and then after another 200 km, there was a sign up outside Toad River Lodge, proud of its collection of 6000 (very dusty) caps which decorated walls and ceilings… on the road, we came across a herd of about 30 buffalos - these handsome beasts - "wood buffalos" - weighing up to 900 kilos, emblem of the "conquest of the West" which nearly caused their extinction at one point, have been re-introduced, and are prospering… too much so now, so that the Government is being forced to consider reducing their numbers. With no predators, the buffalos do as they like, frequently settling down to ruminate on motorways. They are a real danger, the bus driver told me - talkative for once - as in winter when covered with a few inches of snow they can become invisible.
- on the road...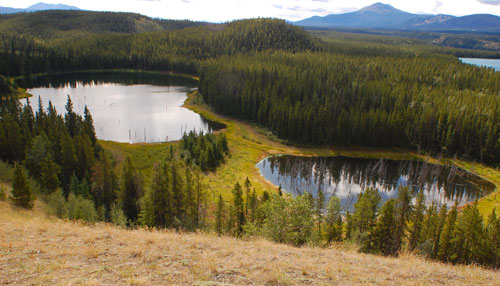 Brock, who shared my seat, was a Canadian from Ontario who was coming back from two months which he said had been "diabolical". He smelt strongly, and told me why. For three summers he had been working for a firm which was replanting whole mountains which had been devastated by forest fires, or thinned out by forestry companies. The latter used to carry out "radical thinning" - that is to say, in a specific sector, to chop down all the standing timber. Wisely, however, like Sweden and Norway, the Canadian authorities now made it compulsory for these companies to undertake reafforestation campaigns. This work was hard but well paid, Brock explained. It consisted, using precise and codified gestures, of replanting seedlings, mainly conifers. Thousands and thousands, for 8 to 10 hours a day, with one's feet in mud and clouds of bloodsucking flies as a final torture… But the salary made it all bearable - at 12 cents a plant, Brock sometimes managed to plant 2 000 an hour, and working for a six-day week he had managed to earn a very good packet.
There were 700 more kilometers to go before our arrival in Whitehorse, capital of Yukon, an important stage for gold diggers making for Dawson City, even further north. The countryside passed by, greyish, and fairly monotonous. When I arrived, at 4 am, it was cold - hardly 5° - and foggy.
- Whitehorse, capitale du Yukon, 25 636 habitants -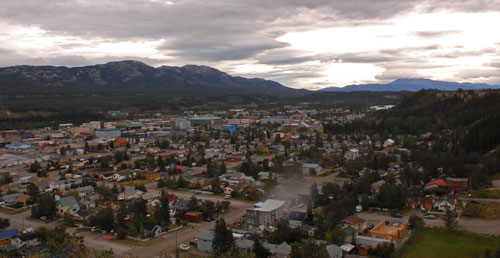 next article : camping ; washer-up in the best and above all the largest restaurant in Whitehorse ; a good plan to go down part of the Yukon, the "Grande Rivière", 3 000 km long, by canœ. lire ici.
from a story told by Romain Dartigues - translated by Joanna Bremond -