Cannes : un Palmier en or pour « The... Tree of Life » et pour « The Artist »...
Les membres de l'association Ciné Croisette ont délivré leur verdict.
Sans pression, sans date limite, les amoureux fous de cinéma, rassemblés autour de leur président, Serge Basilewsky, ont longuement délibéré avant de choisir les films qui leur ont parus être les meilleurs. Ils étaient plus d'une centaine à s'être réunis la semaine dernière dans un des salons du Carlton de la Croisette. Parmi eux, beaucoup d'habitués rompus au Festival depuis plus de 20 ans. C'est dire si leur avis est susceptible de refléter celui d'un public de cinéphiles…
Ne prenant en compte que les seuls films de la compétition officielle du Festival de Cannes 2011, ils ont ainsi décerné comme à l'accoutumé leurs Palmiers :
Palmiers d'Or ex-aequo « The Artist » et « The Tree of Life »,
Grand Prix « Le Havre »,
Prix de la Mise en scène « Melancholia »,
Prix du Scénario « La Piel que Habito »,
Prix d'interprétation feminine à Tilda Swinton dans « We Need to talk about Kevin »,
Prix d'interprétation masculine à Sean Penn dans « This must be the place »,
Prix du Jury « La Source de Femmes ».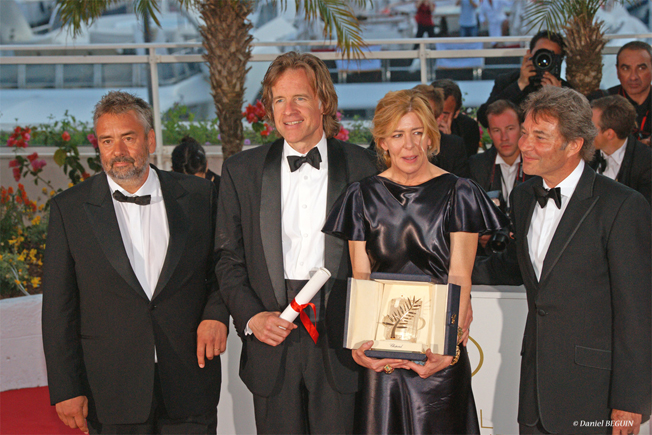 - l'équipe de The tree of life de Terrence Malick, film distribué par Luc Besson - photo (c) Daniel Beguin -